AAKbah is LOCOs' next hero who will come to your PC on 14th of September. Be prepared! But AAKbah will just be the first of the three new heroes in LOCO. We are going to release the others in two-weekly steps.
To shorten your waiting time, we have implemented the missing pages regarding the three new heroes AAKbah, Ellan Rhineford and Partizan to the "Book of Heroes" and "Laair Hathys' Spellbook".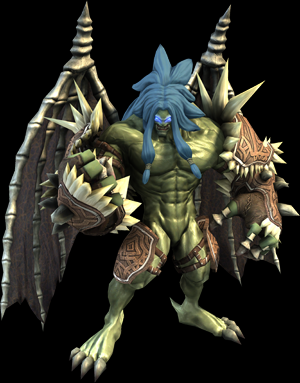 The story of AAKbah:
"When AAKbah opened his eyes, he was completely out of his mind. He had no idea where he was, all he could see were the solid, dark walls of the dungeon or cave he was kept in, exhausted, scared and bound. He neither knew who he was nor how he managed to get here. Even worse, he slowly realized that there was something terribly wrong with him. His body felt strange and misshapen, someone or something has transformed him into a hideous creature. Rage was what he felt when getting aware of that. Rage and thirst for revenge.
But for his redemption he first had to make his way out of the prison and find out who has done all these terrible things to him. There had to be a way out of the cave, and in a concise and intent moment AAKbah took all his strength together and in a single, mighty stroke, he freed himself from the chains of his prison and escaped. He vaguely remembered a woman glancing at his deformed body from a distance. Who could she be? Was she what he kept her for – the greatest enemy in his irritating new life? And even if he destroyed her, how could he ever live the modest, peaceful life again he had as a human?"
Ad blocker interference detected!
Wikia is a free-to-use site that makes money from advertising. We have a modified experience for viewers using ad blockers

Wikia is not accessible if you've made further modifications. Remove the custom ad blocker rule(s) and the page will load as expected.